Subaru Crosstrek Service Manual: Adjustment
CONTINUOUSLY VARIABLE TRANSMISSION(TR580) > Front Differential Assembly
ADJUSTMENT
1. Using the ST, screw-in the retainer until resistance is felt.
NOTE:
RH side should be screwed-in more than LH side.
| | |
| --- | --- |
| ST 18658AA020 | WRENCH COMPL RETAINER |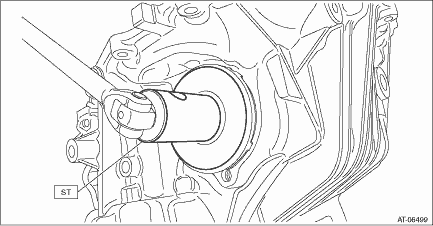 2. Remove the remaining liquid gasket from the mating surface completely.
3. Using the ST, install the drive pinion assembly to converter case.
| | |
| --- | --- |
| ST 18270KA020 | SOCKET (E20) |
NOTE:
Do not confuse the three different-length bolts when installing.
43 N·m (4.4 kgf-m, 31.7 ft-lb)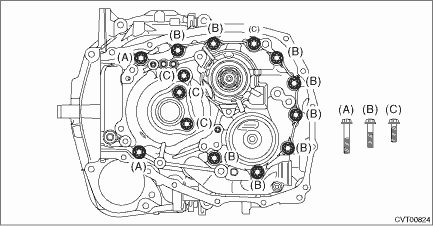 4. Rotate the drive pinion shaft ten times or more using ST1 and ST2.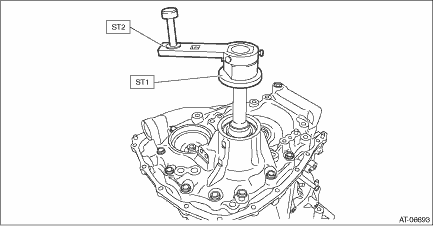 5. While rotating the pinion shaft, tighten the retainer LH and loosen the retainer RH until the shaft can't be turned anymore. The backlash is "zero" when the pinion shaft comes to the point where it doesn't rotate.
6. After the "zero" state is established, loosen the retainer LH by 3 notches and secure it with the lock plate. Retighten the retainer RH until it stops. Rotate the drive pinion 2 or 3 times. Tighten the retainer RH further 1-3/4 notches. This sets the preload. Finally, secure the retainer with its lock plate.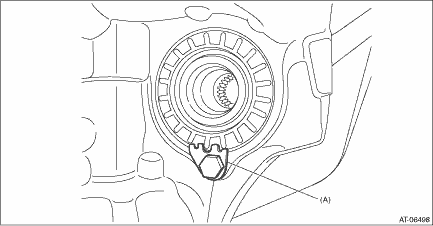 NOTE:
Turning the retainer by every one tooth changes the backlash approx. 0.05 mm (0.0020 in).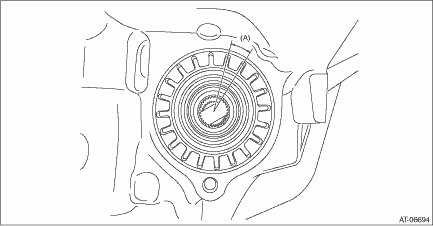 7. Insert the two SUBARU genuine axle shafts into differential case.
| | |
| --- | --- |
| Part No. 38415AA070 | Axle shaft |
8. Install the ST to the drive pinion retainer, and wrap the drive pinion shaft with cloth and pinch with vise pliers. Using a tie-wrap or a wire, fix the vise pliers to the ST.
Make sure the drive pinion shaft does not move.
| | |
| --- | --- |
| ST 18763AA000 | COMPRESSOR SHAFT |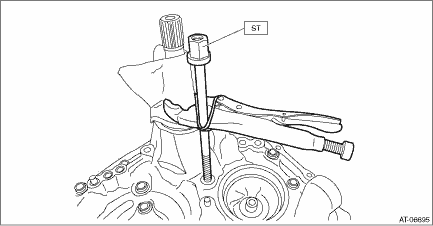 9. Check the backlash is within specification using ST1, ST2 and ST3.
0.13 — 0.18 mm (0.005 — 0.007 in)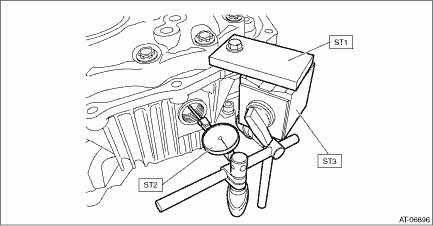 10. Adjust the teeth contact of the front differential and drive shaft. Drive Pinion Shaft Assembly > ADJUSTMENT">

CONTINUOUSLY VARIABLE TRANSMISSION(TR580) > Front Differential AssemblyREMOVAL1. Remove the transmission assembly from the vehicle. Automatic Transmission Assembly > REMOVAL">2. Remove ...
Other materials:
Removal
PARKING BRAKE > Parking Brake LeverREMOVALCAUTION:Refer to "CAUTION" of "General Description" before handling the airbag system components. General Description > CAUTION">1. Set the wheel stoppers to tires.2. Remove the headrest assembly - front.3. Move the pas ...
Installation
CLUTCH SYSTEM > Clutch PedalINSTALLATION1. Install in the reverse order of removal.CAUTION:Always use a new clevis pin.Tightening torque:Clutch pedal18 N·m (1.8 kgf-m, 13.3 ft-lb)Knee airbag module7.5 N·m (0.76 kgf-m, 5.5 ft-lb)Air intake boot3 N·m (0.3 kgf-m, 2.2 ft-lb)2. Ad ...
Removal
EMISSION CONTROL (AUX. EMISSION CONTROL DEVICES)(H4DO) > PCV ValveREMOVALCAUTION:Do not remove unless the PCV valve is broken.1. Disconnect the PCV hose from the intake manifold and the PCV valve, and then remove the PCV hose.2. Remove the clip (A) holding the air breather hose from the engine ha ...
© 2016-2022 Copyright www.sucross.com