Subaru Crosstrek Service Manual: Adjustment
CONTINUOUSLY VARIABLE TRANSMISSION(TR580) > Forward Clutch Assembly
ADJUSTMENT
1. Install the thrust bearing to the internal gear.
NOTE:
Face the temper color surface to the reverse brake side.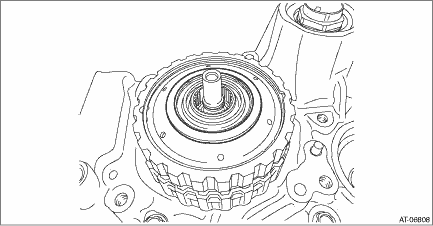 2. Measure depth "A" from the ST upper face to the washer mounting surface.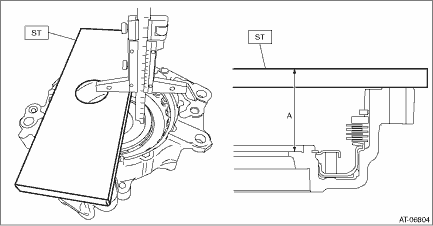 3. Measure the height "B" from the ST upper face to the mating surface of the drive pinion retainer.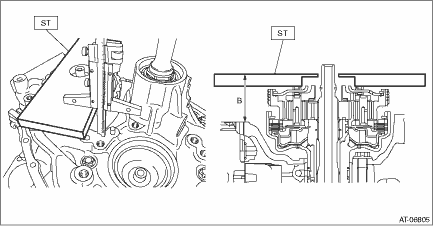 4. Obtain the thickness of washer using the following formula to select the washer.
T (mm) = A − B − (0.35 — 0.70)
[T (in) = A − B − (0.014 — 0.028)]
T: Shim thickness
A: Depth from the ST upper face to the washer mounting surface
B: Height from ST upper face to the drive pinion retainer mating surface
0.35 — 0.70 mm (0.014 — 0.028 in): Clearance
Washer

Part No.

Thickness mm (in)

803064020

1.3 (0.051)

803064021

1.55 (0.061)

803064022

1.8 (0.071)

803064023

2.05 (0.081)

803064024

2.3 (0.091)

803064025

2.55 (0.100)
CONTINUOUSLY VARIABLE TRANSMISSION(TR580) > Forward Clutch AssemblyREMOVAL1. Remove the transmission assembly from the vehicle. Automatic Transmission Assembly > REMOVAL">2. Remove the ...
Other materials:
Installation
AIRBAG SYSTEM > Knee Airbag ModuleINSTALLATIONCAUTION:• Before handling the airbag system components, refer to "CAUTION" of "General Description" in "AIRBAG SYSTEM". General Description > CAUTION">• Do not allow harness and connectors to ...
Inspection
Blind Spot Detection/Rear Cross Traffic Alert (DIAGNOSTICS) > General DescriptionINSPECTION1. BASIC INSPECTIONBefore performing diagnosis, check the following items that might provoke the problems related to BSD/RCTA.1. Check the battery. Battery">2. Check the relay and fuse condition. ...
General scan tool Operation
ENGINE (DIAGNOSTICS)(H4DO) > General Scan ToolOPERATION1. HOW TO USE GENERAL SCAN TOOL1. Prepare a scan tool (general scan tool) required by SAE J1978.2. Connect the general scan tool to data link connector located in the lower portion of the instrument panel (on the driver's side).3. Using ...
© 2016-2022 Copyright www.sucross.com